Things have been very FrEQ'y since the launch of BIG FrEQ! It has been a wild 3 weeks filled with lots of awesome user feedback and useful bug reports from all of our users. Thanks to all of your input, we can now work towards a better launch of BIG FrEQ 1.0. Right now, we are working towards making the full release version run more smoothly across all DAWs and formats, as well as making it more accurate and lightweight on processing. There are some stubborn bugs that need attention before we can focus on the release, and it has been time consuming to get around them. Because of this, we have chosen to postpone the release of BIG FrEQ 1.0. The new release date is to be determined at this time, but on the bright side, the BIG FrEQ will be on sale for $99 for even longer!
While you are waiting for the full release, we have some cool new presets for you! Dave Derr, the mastermind behind all of our products, put together these 4 new presets to demonstrate the flexibility of the BIG FrEQ, and give a better context to putting the unique FINISHER section to the test. You can download these presets below. Like the Arousor, the BIG FrEQ has a text-based preset system that allows for copying and pasting presets, but also has a built-in preset manager that can save presets to be used across multiple DAWs. With that in mind, there are 3 ways to download these presets.
The best way to download these presets is to download all of them at the link below and extract them in to the BIG FrEQ presets folder. This folder can be found by opening BIG FrEQ and selecting "Open Preset Folder." If you don't want all of these presets, click the "Copy Preset" button next to the preset(s) below to copy it to your clipboard, open the BIG FrEQ preset menu, and click "Paste from Clipboard." Once it is pasted in, save the preset with our built-in "Save As" feature, so the preset can be used in any DAW. If the "Copy Preset" button does not work for you, select all of the text next to the "Copy Preset" button, and follow the same process. 
Since it is so easy to share presets, we encourage you to share any presets you made with us and your friends! Please submit your presets here and if we like them, we will either post them to our website or include them in a future update of the BIG FrEQ.
One last note, BIG FrEQ 0.9.1 is available for download here and it fixes an issue with instrument tracks on Logic Pro X. If you experience any other bugs with the BIG FrEQ, please submit them here.
Studer Tape Simulation Presets
These two presets are modeled after the Studer A827 running at 15ips and 30ips. Turn up the FINISHER for more noticeable saturation, and stay away from changing the parametric bands.
Four Zones Preset
This preset has four wide bands that are set to control low, low-mid, high-mid, and high frequency ranges. Use the gain to adjust the tone profile.
Smoove Preset
This preset features useful parametric settings that are non-resonant. Feel free to adjust the gain and frequency as need to without worrying about resonances.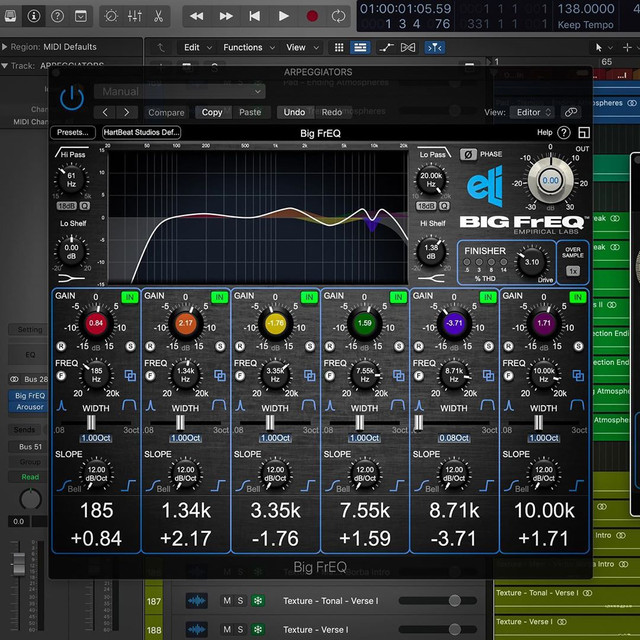 "Massive congrats and kudos to the fine people at @empiricallabs for their gnarly new EQ – the "BIG FrEQ". This machine has easily taken the place of every other parametric EQ that I own. Absolutely phenomenal. #FrEQingAwesome 🤯"