Equalization Empirical Labs Style
As with ELI's other signal processors, the Lil FrEQ Equalizer takes a somewhat unique approach to its job. Instead of daisy chaining several equalizers and frequency processors, we combined most of the sound sculpting tools an engineer needs into a compact single rack space box, while still offering the highest performance of any design in its class.

Eight Sections of Processing
There are eight sections of processing – what other EQ offers that? Even better – in addition to a master bypass, each of the Lil FrEQ's sections features its own dedicated bypass switch, letting you instantly A/B the effect of each section as you adjust and fine-tune them.

HIGH PASS – The High Pass section is a really easy to use sharp filter that cuts all content below one of eight preset frequencies from 30-330 Hz. This filter is very steep and has a special shape that prevents frequencies from thinning out just above the cutoff point. The corner frequency is selected using up/down buttons, and indicated by LEDs that glow softly when the section is bypassed, and brightly when the section is engaged.
HIGH & LOW SHELVING – These two knobs function similarly to the familiar "bass and treble" tone controls found on many consumer audio playback systems; however, these are designed to a much higher performance standard, providing exceptionally smooth and musical boost and cut on the high and low frequencies.

PARAMETRIC EQ – The Lil FrEQ has four sections of fully parametric EQ (LF, Lo Mid, Hi Mid and HF), with each section featuring individual gain, bandwidth (Q) and frequency controls.  It may be the cleanest parametric EQ section ever produced, operating below .0007% THD (Total Harmonic Distortion) even at extremely high audio levels. Try finding those specs anywhere else!
DS (DYNAMIC EQ) – The DS section provides the highest performance, easiest to use, and possibly most natural sounding "De-esser" ever built.  This powerful tool combines tunable filters with a compressor-like circuit that can help contain and control excessive high frequency content such as sibilants or other sharp transients, especially in the absence of other lower frequency content.  It can also function as a one of a kind soft knee High Frequency limiter, which is one of the main things responsible for the Lil FrEQ becoming the go-to vocal EQ for engineers everywhere.  It has been used on many acclaimed albums and major live performances all over the world, becoming the "go to" EQ for key tracks like lead vocals, snares, and bass.  There are now dozens of hit record vocals that were processed thru the Lil FrEQ.
Frequency Response – 5 Hz to 140 kHz on transformerless inputs and outputs. Transformer output 10Hz to 110 kHz.
Dynamic Range – 120 dB from maximum output (.1% clipping) to minimum output. Greater than 110 dB signal to noise.
Distortion – Ranges between .00056% and .005% depending on mode and settings. DS section has THD < .005%.
I/O – DC coupled inputs and outputs and one transformer coupled output.
Dynamic Time Constraints – Attack is approximately .5 ms. Release .04 sec fixed internally.
Power Consumption – 15 Watts Max.
Metal Chassis – single height 1.75″ high, 10″ deep, 19″ wide.
Shipping info – Box dimensions 22.5″ x 18.5″ x 3 1/4″.
There are engineers who enjoy the flexibility of being able to EQ audio signals when they're tracking. For them, we offer the Trak Pak – a combination of our Mike-E and Lil FrEQ processors set up for seamless integration. With a killer mic pre, famed ELI compression, tape saturation and eight individually defeatable EQ sections, we feel it's simply the most powerful and flexible "channel strip" solution available.

A unique and varied combination of features–classic EQ sound in a modern parameter set, eight processing sections with independent bypass, punchiness galore, and de-essing with a soft knee high-frequency limiter—make it hard to think of a more potent analog EQ. The Softube native software version—precision-modeled in close collaboration with Dave Derr—gives you all that dynamism plus remarkable sound quality.

We have provided markings on the front panel that accurately emulate the frequencies and curves of the NEVE1073 Preamp EQ. You will find two symbols to guide you. One is an "N" and the other is a small "donut" symbol. The two mid frequencies allow two 1073 frequencies and the N and donut are used to show the proper combination of frequency and bandwidth (Q). Use the "N" frequency with the "N" bandwidth mark, and the donut with the donut. The Low Mid uses the same Bandwidth setting for both Neve Frequencies, and thus only one symbol, the donut, is shown on the Low Mid bandwidth knob. We suggest using the transformer output to complete the emulation, since the 1073 used a transformer on its output also. Our Highpass can also be used as you would on the 1073.
"I love it and put it on every lead vocal."
"...and on the third day, the big guy made the Lil FrEQ... and everybody went f*ck'in freaky."
"Hey Dave… so I got the box, plugged it in on an Etta James vocal that I was having problems with… and it $#$%^&* rocks. This is a great box, my friend. I can see anybody with a DAW wanting to use this thing. I am using the shelving, DS'ing and transformer out, and I am just thrilled..."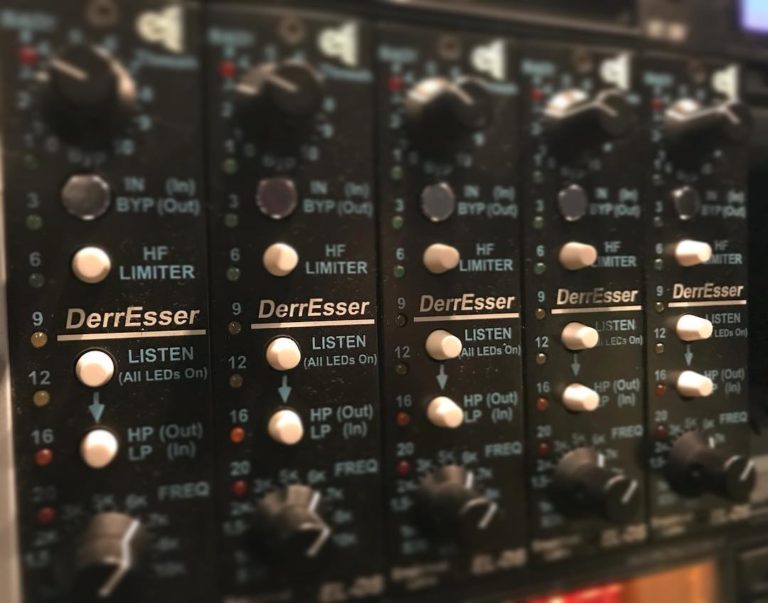 Empirical Labs uses an unusual De-Esser and HF (high frequency) limiter circuit in two of their products, the