With twelve powerful sections of processing, BIG FrEQ offers the ability to create modern "flat-top" parametric shapes with an analog workflow and added controls for more tone-shaping possibilities than a typical EQ plug-in. Inspired by the precision and warmth of Empirical Labs Lil FrEQ parametric equalizer, BIG FrEQ introduces superior fine tuning controls for surgical tone shaping and a unique FINISHER section for adding organic harmonic distortion. Like the plug-in's predecessor, the Arousor, Empirical Labs brings the soul of analog hardware to the digital realm and includes features that can not be replicated in the analog domain. As always, Empirical Labs offers new twists and functionality to their new plug-in EQ and labors over making it mindless to learn, and just plain FUN to use.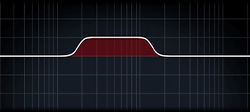 Create modern tone curves with the added SLOPE control on each parametric band. This fourth EQ parameter steepens the edges of the curve creating a plateau shape allowing more frequencies to be adjusted equally.

Dial in organic, tape-like saturation with the unique FINISHER section and know how much saturation is being applied with the saturation meter.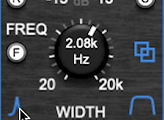 Switching on the FOCUS mode will center the selected frequency and reduce the range of FREQ knob for easy fine tuning.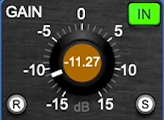 Expand the range of the GAIN knob an extra 15dB by toggling the RANGE mode for more dramatic boosts and cuts. 
What's New in BIG FrEQ 1.3
AAX-DSP and VENUE (S6L) support
Improved CPU on Windows and Mac, across all common platforms
Added A/B Compare
Refinements to ELI Built-In Preset Menu

Added "Save" and "Save As" options, for current preset or setting.

Preset becomes italicized to indicate changes have been made to it.
"Big FrEQ is an EQ on steroids with a number of unique twists."
"This plugin has immediately found it's way into my very small pile of heavy rotation tools"
"Save As User Default!!!! This new EQ plugin from the ears and mind of Dave Derr is so awesome."
"I've never had anything like this amount of control."
Try the BIG FrEQ for Free for 15 days.
• Download the BIG FrEQ Installer at the link the link below.
• Install the BIG FrEQ and click "TRY" the first time it is opened.
• An iLok USB Generation 2 or higher or iLok Cloud is required to use the BIG FrEQ.
Buy the BIG FrEQ on our store.

• When you purchase the BIG FrEQ from our online store you get 1 license with 2 activations when you redeem your activation code.
• Get free updates and support.
• An iLok USB Generation 2 or higher or iLok Cloud is required to use the BIG FrEQ.
Pay Monthly or Annually.
• Subscription services are provided by Gobbler.
• When you subscribe, Gobbler will provide you one Subscription license.
• An iLok USB Generation 2 or higher or iLok Cloud is required to use the BIG FrEQ.
$2.99/month or $29.99/year